What is MMS Messaging?
When you go out in public these days, few people are interacting with each other — typically, they're all on their phones. But they aren't talking — they're sending GIFs, emojis, and short video clips. This visual content allows consumers to interact with each other and the messaging service that lets you incorporate images, audio, and video into text messages is MMS. 
What does MMS mean?
MMS — Multimedia Messaging Service — allows your phone to send emojis, pictures, videos, GIFs, audio recordings, and other non-text content. MMS can be more personalized than a plain text message. While you can send an emoji in an SMS message, you can send a GIF in MMS to amplify the tone of your message.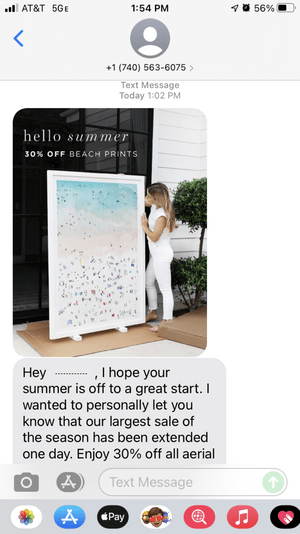 MMS vs. SMS: Which is better for your use case?
An MMS with graphical elements can be visually engaging for message recipients. Corporate marketing departments have trouble getting potential customers to pay attention to their messages. The visual element that MMS provides can solve that problem. According to Salesmate, "Pop an emoji or emoticon in your subject lines, and your open rates could soar. 56% of brands that use emoticons in that way have higher open rates. It's something your business can't afford to neglect."
MMS has unique strengths for several industries. Consider retail for instance — retailers can use MMS to send coupons with embedded QR codes, or receive product registrations that include images of barcodes or QR codes. We wrote a blog post about how retailers can take full advantage of MMS. Recommended uses include coupons and promotions, personal shopping, product registrations, and branded content. Even if you're not a retailer, it has ideas you might be able to apply to your business.
You can use MMS for any of the same use cases as SMS. Check out our guide on getting started with SMS marketing for more information.
As MMS is such a personal form of communication, we advise businesses to be thoughtful about when and how they use it. A messaging strategy loses its power when you inundate consumers with irrelevant messages or send messages too often or at inconvenient times, such as when they're settling into bed for the night. 
Plivo's MMS API
Make sure to work with a high-quality MMS API provider that can provide the features, network, and infrastructure needed to help make your strategy successful. Our guide to choosing an SMS API provider details what you should look for from your SMS/MMS provider. Ultimately you're looking for an API solution that makes it easy for developers to programmatically send and receive messages, that also leverages the cloud for scalability, and that runs on a global communications network to intelligently and cost-effectively route messages.
The Plivo MMS API lets you send and receive pictures and videos across phone numbers in the US and Canada. Several key features let you easily engage your customers visually.
You can send and receive MMS messages across the US and Canada via multiple sender types, including long code and toll-free numbers.
Choose between a variety of multimedia formats, such as image files (JPEG, GIF), emojis, audio (MP3), and video (MP4), for a rich multimedia experience.
The API intelligently resizes your images to ensure the best delivery across different carrier networks.
Plivo provides multimedia storage for both inbound and outbound MMS messages for easy access and reuse.
The API can convert multimedia messages into SMS when you're sending messages to MMS-incompatible phone numbers.
Message queuing retries concurrent messaging requests to comply with carrier regulations and offers increased deliverability.
MMS on Powerpack
Plivo's Powerpack provides a set of features that make message communication at scale more effective and reliable, ensuring that your SMS and MMS messages get delivered at whatever scale you're sending them, to any country. Powerpack automates all of the complex logic that you would otherwise have to code manually. It's designed to meet large-scale message throughput and volume requirements. By automatically distributing your overall messaging traffic across a pool of source numbers, Powerpack guarantees that you stay compliant with throughput limits and that your MMS messages get delivered.
Get started with MMS at Plivo
Not sure how to use Plivo for MMS? We've written Getting Started guides to sending MMS and receiving MMS for developers who use Node.js, Ruby, Python, PHP, .NET (C#), Java, and Go. And if those aren't enough, we've got answers to several MMS questions in our support portal. 
Our competitive pricing starts at $0.0080 for inbound and $0.0160 for outbound MMS messages. Pricing is pay-as-you-go, but discounts may apply to messages sent at higher volumes; you can contact our sales team for higher volume enrollment. Additional carrier surcharge fees may apply to all inbound and outbound MMS usage rates. 
Sign up for a free trial of Plivo's MMS API and automate sending MMS messages to US and Canada phone numbers today.
---
By submitting this form, you agree we may contact you in the manner described in our
Privacy Policy
.