Sending hundreds of thousands of messages at a go isn't easy. How many phone numbers do you need to deliver those messages? What are the best phone numbers to use to ensure delivery?
Powerpack automates all of the complex logic that you would otherwise have to code manually. It's designed to meet large-scale message throughput and volume requirements. By automatically distributing your overall messaging traffic across a pool of source numbers, Powerpack guarantees that you stay compliant with CTIA throughput limits.
We introduced Powerpack last year for SMS message, and now we've extended Powerpack functionality to MMS. MMS use has grown exponentially in recent years — businesses now employ rich visual experiences to give customers more information about a product, and in return they see higher engagement rates from their customers. If you send messages with image, audio, or video content, you can now configure a Powerpack to automatically deliver those multimedia messages. You simply select a pool of phone numbers when configuring a Powerpack and Plivo does the rest. And best of all, it's absolutely free!
Key Powerpack features include:
High deliverability: Powerpack provides high deliverability by intelligently managing your numbers. It eliminates the possibility of a single point failure and provides intelligent load management.
Number pool: Powerpack intelligently distributes outbound message traffic over a pool of source numbers optimal for your message volume. It only takes a few seconds to set up a pool of source numbers that's the right size for your message volume.
Regulatory compliance: Messaging regulatory compliance varies not only by the number type but often by location as well. Powerpack includes compliance controls that help ensure high deliverability and throughput.
Sticky sender: If you want to contact the same subscriber more than once, Powerpack can help maintain a single conversation thread by always sending messages to that subscriber from the same source number in the pool.
Local connect: The local connect feature prioritizes phone numbers in the pool that match the region and/or area code of the subscriber. Recipients are more likely to show interest in messages from familiar sources.
Automatic fallback: You can enable automatic fallback with Powerpack by adding Plivo toll-free numbers or short codes to Powerpacks. Powerpack can switch from one number type to another without any delivery loss.
Getting started
Configuring a Powerpack is easy — visit Messaging > Powerpacks on the Plivo console, then click Add New Powerpack.

When you configure your Powerpack, you have the option to enable the Sticky Sender and Local Connect features.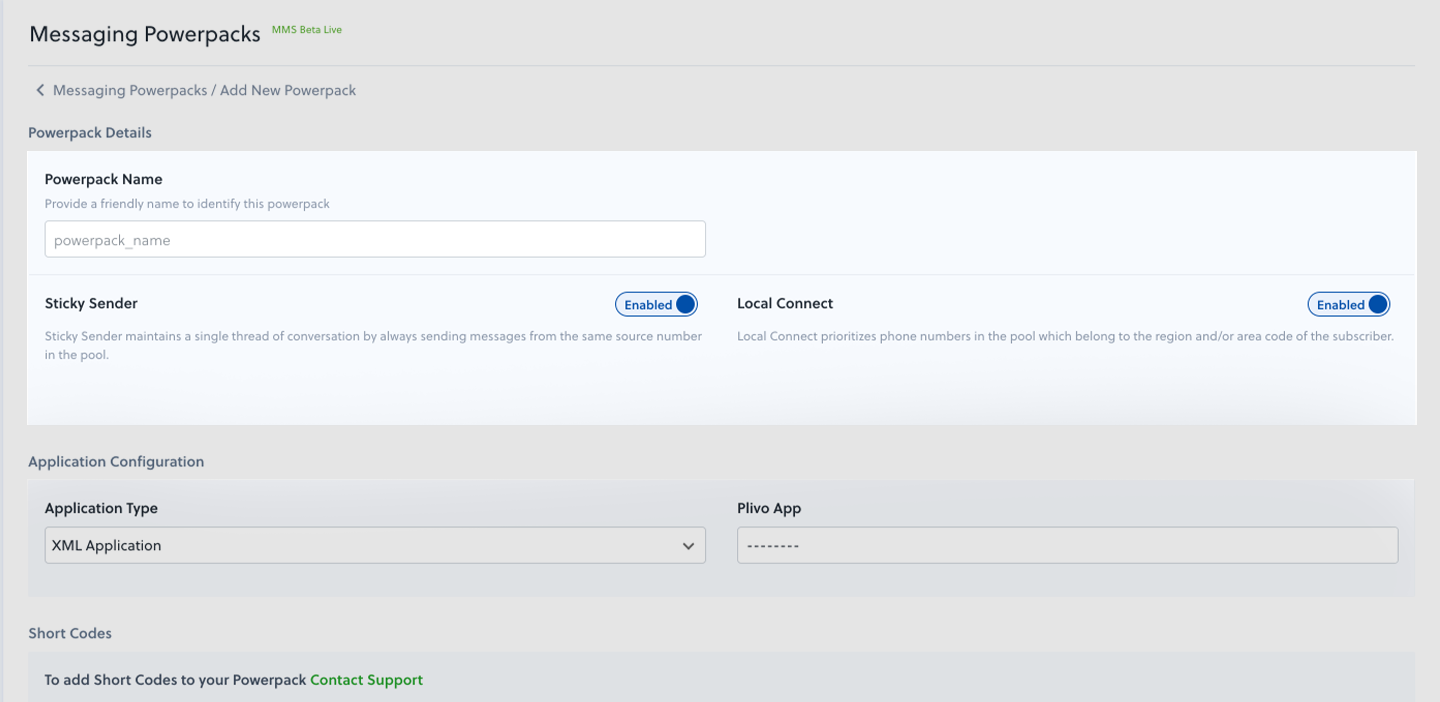 In the Configure Number Pool section, you can enter the count of phone numbers at a country and/or regional level. If you're unsure about how many numbers to add to the pool, enter your daily message volume (US and Canada only) and Plivo will recommend an optimal phone number pool size.
Once you've configured your Powerpack, you can start sending MMS message with it by entering your Powerpack ID as the powerpack_uuid in the Send Message API request. See our Send MMS use case guide for complete details.
Not using Plivo yet? Getting started takes just five minutes. Sign up today!
---
By submitting this form, you agree we may contact you in the manner described in our
Privacy Policy
.