New Phone Number Regulatory Compliance Application in the Plivo Console
We've made number provisioning easier, so that customers in regulated countries can provide compliance requirements directly in the Plivo console. Users can also track their compliance status within the console, and stay informed on the progress of the compliance application in real time, without needing to check in via email.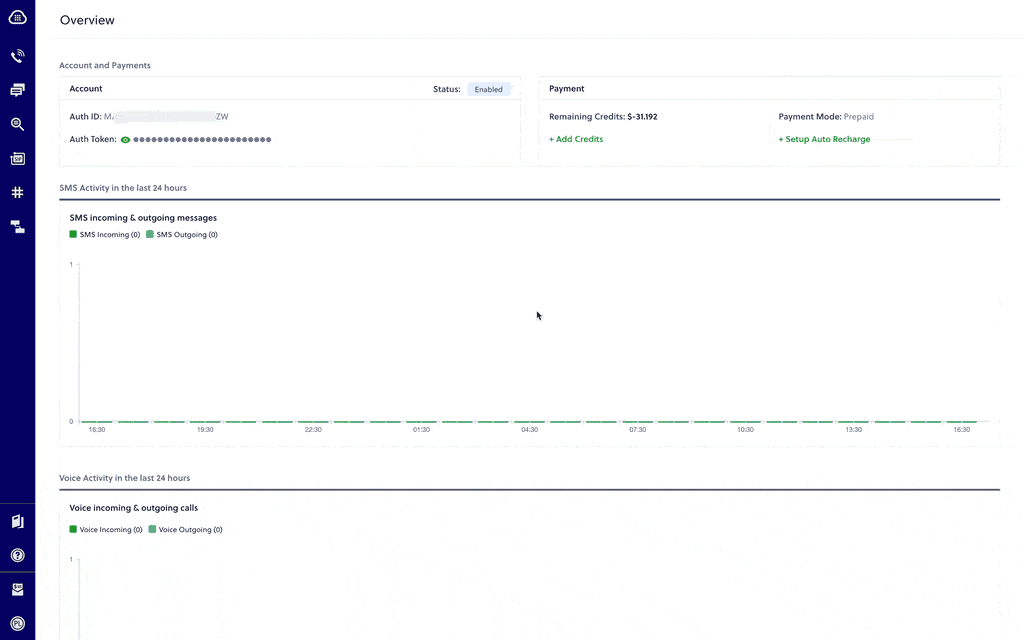 When anyone provisions regulated phone numbers, they must following local requirements that differ by country or territory and may vary for citizens, foreign individuals, and businesses. To prevent spam and fraud, and to generally protect phone numbers as resources, telecom regulators want to know who's answering voice calls or receiving messages.
You must provide the necessary regulatory information and supporting documentation for your numbers in regulated geographies. If you rent numbers in multiple countries, you'll likely need separate documentation for each country. For some countries, requirements also differ by phone number type — national, local, mobile, or toll-free. And some countries also have proof of address requirements. Making sure you meet all the requirements can get complicated.
We aim to make the process easier by handling compliance through the Plivo console, so that your phone numbers are not at risk of getting revoked.
How do I get started?
The compliance process is now part of provisioning a phone number.
1) In the Plivo console, navigate to Phone Numbers and click Buy Number, or search for a phone number you're already renting. When you click on a number you already have, or one of a list of available numbers, look for a Regulatory Information popup that displays the compliance requirements for the phone number. If there is no Regulatory Information section, then the phone number has no regulatory requirements.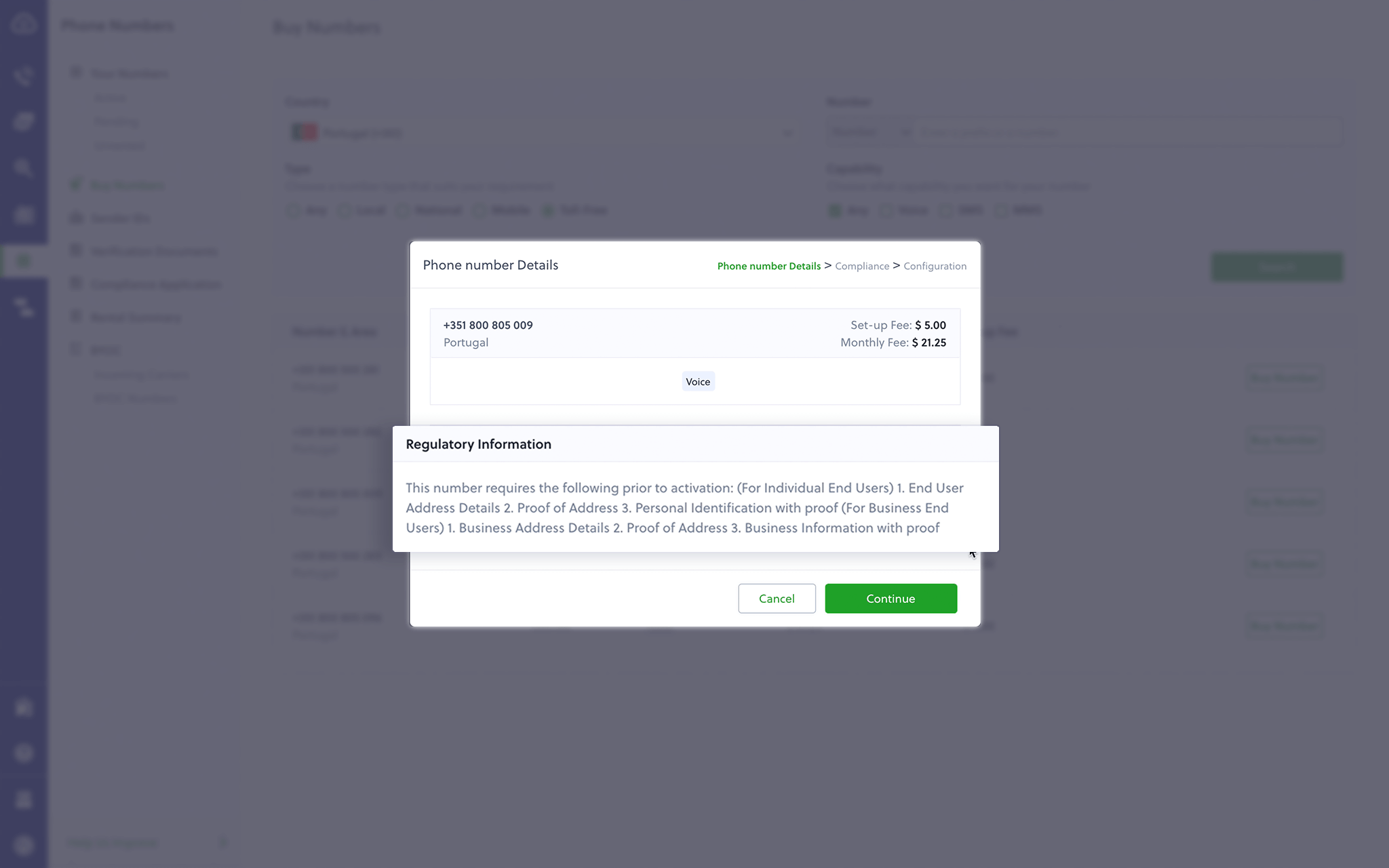 2) Review the regulatory information required, then create a Compliance Application. Existing Compliance Applications are available in the drop-down menu, or you can create a new Compliance Application by clicking on Add New.
3) After you create a Compliance Application, add the relevant documents to it (such as a utility bill for proof of address) and save it for possible reuse, for when you create a Compliance Application for a new region or country. You'll then return to the phone number rental flow, where you can map the newly created Compliance Application to the phone number.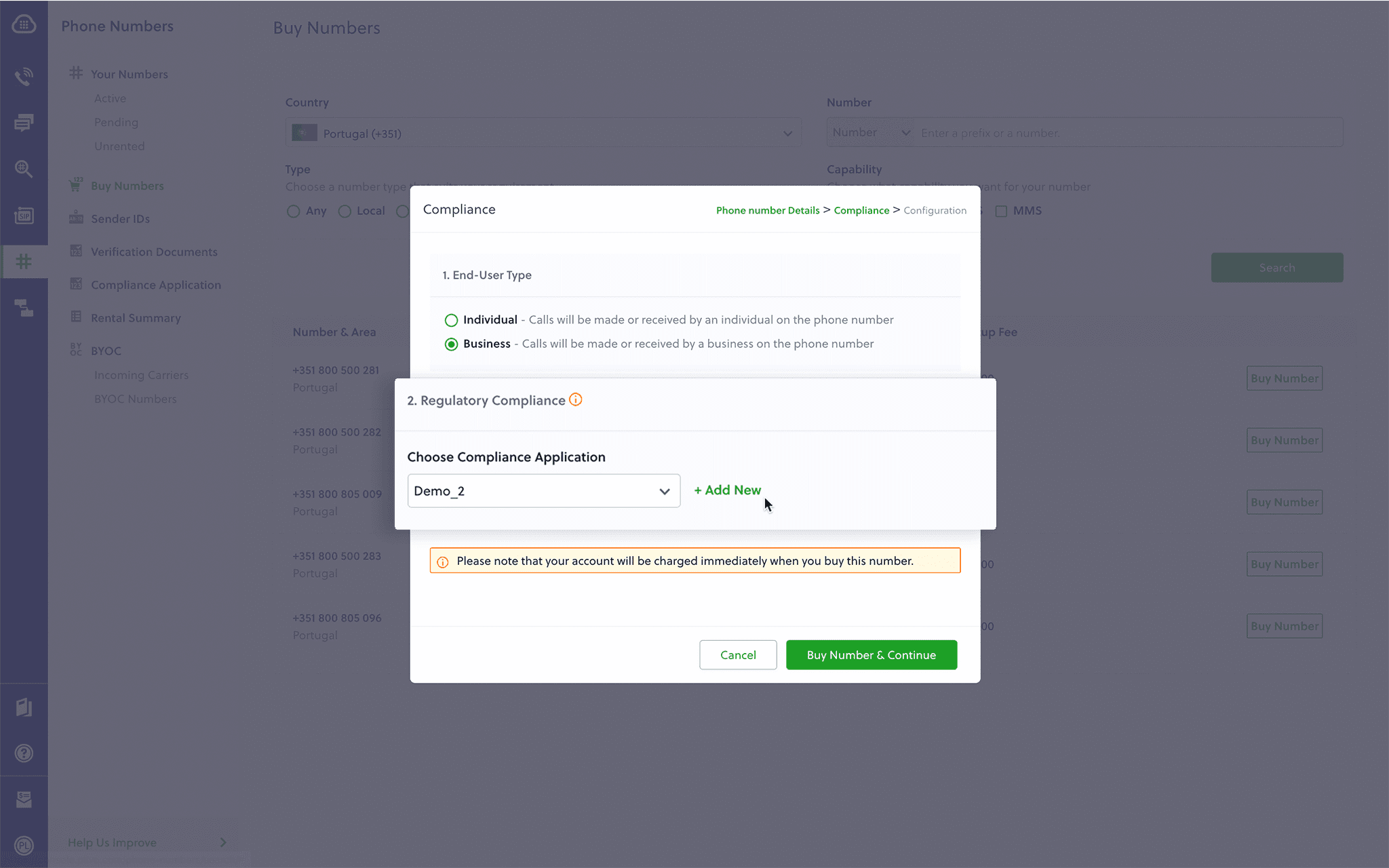 At this stage the phone number status on the Compliance Application console page appears as In Review. Plivo will review the application, which can take up to two business days. Our team will check to make sure the information and documents you provided satisfy local regulators' compliance guidelines.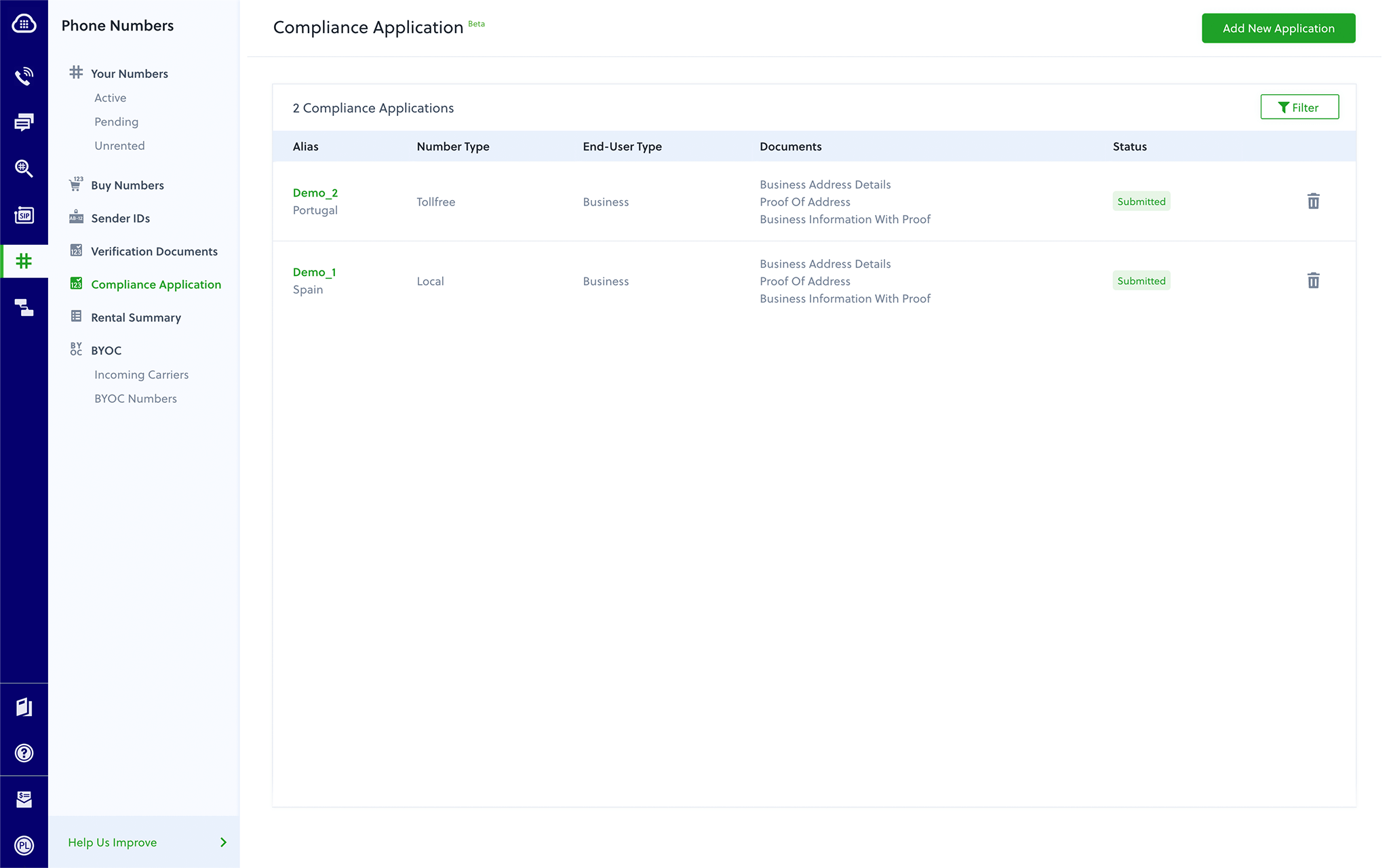 You can view the approval status of any phone number on the console under Phone Numbers > Pending.
We offer more information in our documentation.
Phone number provisioning made easier
Countries are taking important steps to protect their citizens from fraud, spam, and general communications annoyance, but in doing so they're complicating the process of adding business phone numbers. Plivo can help you navigate regulatory requirements for all of the countries where you rent phone numbers and get your numbers into compliance. With phone numbers available in 65 countries, Plivo offers a broad global reach. Please contact our stellar support team for any issues with the process.
Not using Plivo yet? Getting started takes just five minutes. Sign up today.
---
By submitting this form, you agree we may contact you in the manner described in our
Privacy Policy
.