Proactive Monitoring Alerts for SMS Delivery on Your Plivo Account
Proactive error correction is always better than reactive fire-fighting — and that philosophy applies to your business communication too. Plivo now offers proactive alerts when we see a dip in your SMS delivery rate.
A small feature with a big impact
SMS is a reliable communication channel and works flawlessly when implemented correctly. When your end users depend on SMS for account signups, security, chat, or notifications, a small blip in SMS deliveries can wreak havoc on the end user experience.
Text messages can fail to be delivered due to some basic issues, including:
Invalid destination number format: When a destination number is improperly formatted — without country code or area code, for example — the text message is bound to fail.
Blocked phone number: In the US and Canada, customers are required to use a Plivo phone number to send SMS messages. Phone numbers have certain restrictions on quantity and content of text messages. In the US, for example, long code numbers should not be used to send more than 200 messages in a day.  In the case of content or throughput issues, a phone number might get blocked, and thereafter fail to deliver messages.     
Operator downtime: Technical issues or natural calamity in any region may affect SMS delivery. Severe operator downtime or issue with coverage causes text messages to fail.
Callback failure: This feature is specific to inbound text messages. If you have issues with your server, the inbound messages may fail to be delivered.
The logic behind proactive alerts
We've introduced advanced traffic pattern monitoring to give our customers a better way to be informed of potential SMS delivery issues. The algorithm does not access text content or the destination number; it simply works on SMS volume and delivery rate percentage. The monitoring system checks your account SMS delivery rate every 15 minutes for delivery in the last 60 minutes. This value is compared with the average performance of your traffic in the past 7 days. If the variance is more than 25%, we'll send a message to the registered email address you set up when you activated your account.  
Proactive alerts is an optional feature that you can enable from the Messaging > Alerts page of the console. If you do, you'll receive an alert on your registered email address if there's a drop in your SMS delivery rate. Here's an example of what you might see if you enable this feature.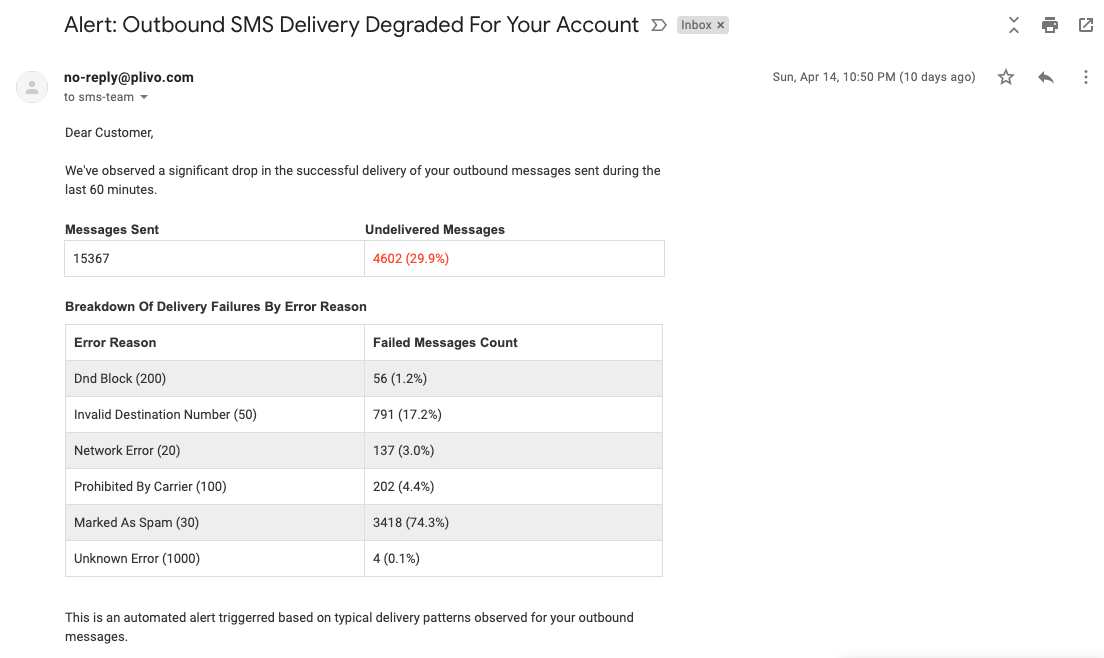 ---
By submitting this form, you agree we may contact you in the manner described in our
Privacy Policy
.