How to Build a Conference Application the No-Code Way Using PHLO
You can create and deploy a workflow to implement conference calling with a few clicks on the PHLO canvas.
Prerequisites
To get started, you need a Plivo account — sign up with your work email address if you don't have one already. To receive incoming calls, you must have a voice-enabled Plivo phone number. You can rent numbers from the Numbers page of the Plivo console, or by using the Numbers API.
Create the PHLO
To create a PHLO, visit the PHLO page of the Plivo console. If this is your first PHLO, the PHLO page will be empty.
Click CREATE NEW PHLO.
In the Choose your use case pop-up, click Build my own. The PHLO canvas will appear with the Start node.

Note: The Start node is the starting point of any PHLO. It lets you trigger a PHLO to start upon one of three actions: incoming SMS message, incoming call, or API request.

From the list of components on the left side, drag and drop the Conference Bridge component onto the canvas. When a component is placed on the canvas it becomes a node.

Draw a line to connect the Start node's Incoming Call trigger state to the Conference Bridge node.

In the Configuration tab at the right of the canvas, enter a Conference ID for your conference. You can also add an announcement message to greet callers, and configure the hold music.
Once you've configured the node, click Validate to save the configuration.
Give the PHLO a name by clicking in the upper left, then click Save.
Your complete PHLO should look like this.
Assign the PHLO to a Plivo number
Once you've created and configured your PHLO, assign it to a Plivo number.
On the Numbers page of the console, under Your Numbers, click the phone number you want to use for the PHLO.
In the Number Configuration box, select PHLO from the Application Type drop-down.
From the PHLO Name drop-down, select the PHLO you want to use with the phone number, then click Update Number.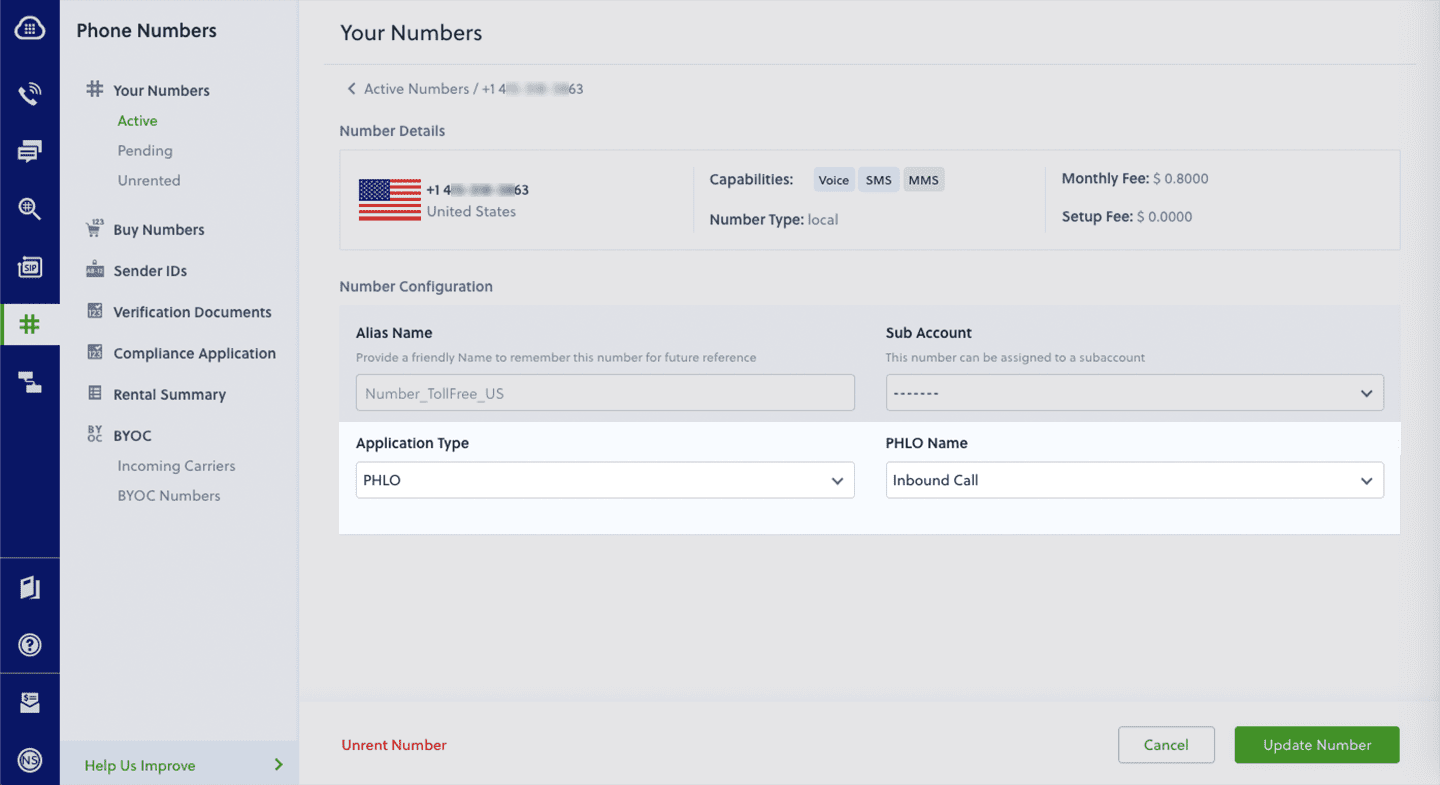 Test
You can now call to your Plivo phone number and see how callers are added to a conference call.
For more information about creating a PHLO application, see the PHLO Getting Started guide. For information on components and their variables, see the PHLO Components Library.
Haven't tried Plivo yet? Getting started is easy and only takes minutes. Sign up today.
---
By submitting this form, you agree we may contact you in the manner described in our
Privacy Policy
.