Zentrunk Inbound Early Access Now Available
We released Zentrunk Outbound in January — now we bring you Zentrunk Inbound, which is available for early access.
More and more companies are migrating from outdated, analog PSTN phone systems to VoIP services to make low-cost calls around the world with high reliability and instant scale. Session Initiation Protocol and SIP trunking services make this migration possible. A SIP trunk is like a virtual phone line, enabling you to connect voice calls over the internet to anyone with a phone, anywhere in the world.
While SIP trunking first gained traction among cloud-native companies, it has rapidly become a solution for non-cloud-native companies as well. Across industries, companies looking for ways to modernize their call centers, conferencing services, PBX and phone systems have turned to SIP trunking to deliver a more cost-effective solution.
Zentrunk, Plivo's cloud-based SIP trunking solution, is SIP trunking with superpowers: instant provisioning of phone numbers, no limits on concurrent calls, no contracts or minimum spend, virtually unlimited global scalability, and the fastest setup you've ever seen.
Today, Zentrunk's full-service — inbound and outbound — SIP trunking solution is publicly available for the first time. Here's what you can expect:
Set up in minutes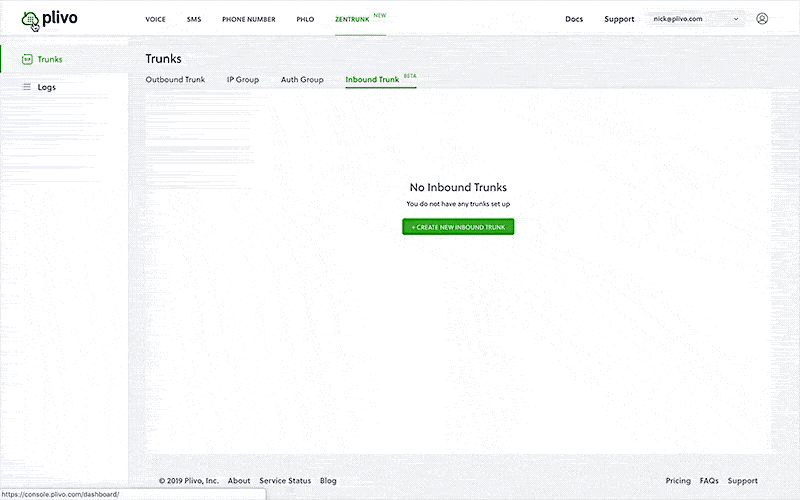 In just a few clicks, Zentrunk can plug into your existing cloud-based or on-premises infrastructure to easily expand your capacity, coverage, and phone number inventory.
Through the self-service Plivo console, you can set up a trunk, link your numbers to the trunk, and receive calls on your VoIP Infrastructure, all in less than five minutes — no waiting period or capacity restrictions.   Also, through the console, you have a simple way to manage your trunks and view call detail records (CDR) so you can monitor usage.  
Instantly provision DIDs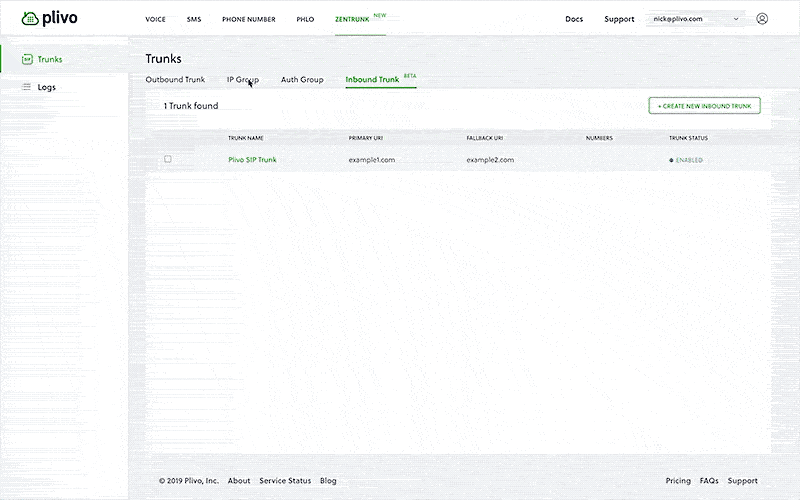 The new inbound feature set we've added allows you to receive voice calls on your voice infrastructure from any PSTN phone number. With Zentrunk, you can instantly provision DID (direct inward dialing) phone numbers from our inventory of more than five million numbers across more than 70 countries. Through the Plivo console, you can find and provision numbers to match your needs — fixed, mobile, and toll-free — as well as get access to unlimited call capacity with every number.
Get global reach  
Zentrunk now facilitates both inbound and outbound calls globally. For global organizations, the ability to provide regional customers with a local number to call can improve engagement and build trust. Plivo partners with local carriers in 195 countries, so you can easily connect with customers around the world without having to navigate the complexity of carrier negotiations. We'll do all the heavy lifting for you.  
Pay as you go
Whether you're using inbound or outbound SIP trunking services, the payment structure is the same. You pay only for what you use. You don't need to worry about long-term contracts, capacity planning, or channel limits. In addition, when it comes to scaling, Zentrunk makes it easy to add more capacity to your existing VoIP system without investing in additional infrastructure.    
Access support 24/7
While SIP trunking is relatively straightforward, you may have implementation questions or need to troubleshoot something, especially if you're layering a SIP trunking solution onto your existing PBX system. Plivo that offers free support to all customers, 24/7.  
With the pace of technological innovation and the increasingly high expectations for speed to market, why settle for outdated, slow-moving, high-cost, locked-in contract types of service? Untether your organization and try Zentrunk SIP trunking. Get in touch with Plivo experts about whether Zentrunk is a good solution for your business.
Ready to get started? Check out our Zentrunk getting started guide.
---
By submitting this form, you agree we may contact you in the manner described in our
Privacy Policy
.