WhatsApp Business Account Onboarding
Once on WhatsApp landing page within Plivo console, you can either link an existing WhatsApp Business Account (WABA) or Create a new WhatsApp Business Account. Clicking on the buttons shown will open Meta's embedded sign up flow (This is a guided flow by Meta and Plivo plays no role in this).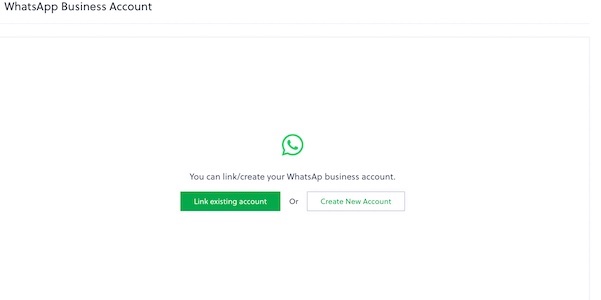 Read about WABA here. 
Embedded Onboarding Initiated
Confirm you have logged in to the correct Facebook account. This account should typically be admin of the WhatsApp Business Account you already have or you intend to create as part of this flow.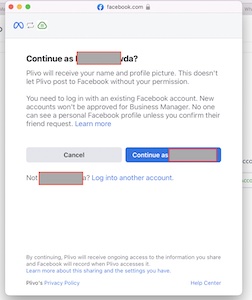 Embedded Onboarding - Permission Sharing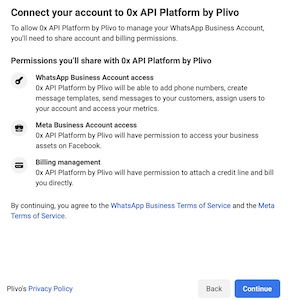 Review the permissions you will be sharing with Plivo (0x API Platform by Plivo). These permissions are essential for Plivo to
Access your WhatsApp Business account (WABA), phone numbers and templates. This lets Plivo sends messages on behalf of your WABA.
Extend credit line to you (so your billing is taken care by Plivo)
Embedded Onboarding - Meta Business Account​​​​​
If you already have a Meta Business Account, you can select from this dropdown. Else you can create a new Meta Business Account.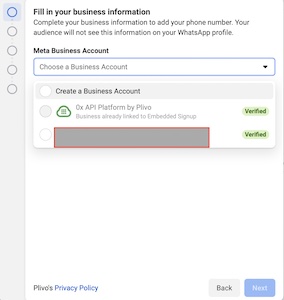 You can view your existing Meta Business Accounts here. 
Your Meta Business Account is an important asset as you will be creating your WhatsApp Business Accounts under it. Your business verification is also done at a Meta Business Account level. This verification is an important step which is essential to unlock messaging limits which are otherwise unavailable. You can read about Meta Business Managers here.
Embedded Onboarding - WhatsApp Business Account
In this step, you will create (or select) WhatsApp Business Account and create (or select) WhatsApp Business Profiles.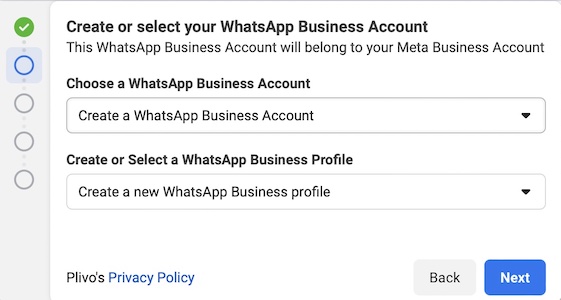 WhatsApp Business Accounts is the asset that gets onboarded to Plivo. It can contain multiple WhatsApp Business Profiles (Phone number + Display name)
You can view your WhatsApp Business Account here. 
You can view your WhatsApp Business profiles here.
Embedded Onboarding - WhatsApp Business Profile
Confirm your details here and update them if necessary. Your WhatsApp Business Profile will be mapped under the WhatsApp Business Account visible here. You can also update your Display name (this is visible to your end customers in the whatsapp consumer application).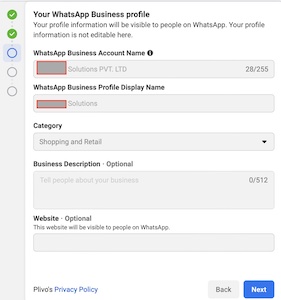 Embedded Onboarding - WhatsApp Business Profile Number Verification
Verify your number via a text message or phone call. You will not be allowed to proceed forward without completing this step.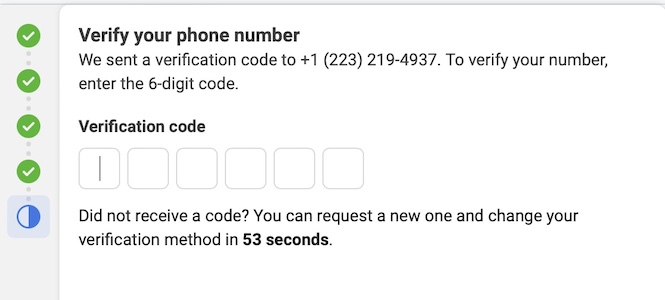 Embedded Onboarding - Confirmation
Once you click on 'Finish', you will be led back to Plivo Console.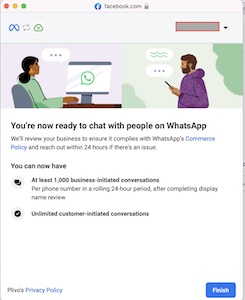 You will see the WhatsApp Business Account is now displayed on your Plivo Console.
Onboarded WABA appears in Console
As shown above, the WABA and the WhatsApp business profile are now displayed on Plivo Console. 

🥳 Thank you! It means a lot to us!
Thank you so much for rating the page, we would like to get your input for further improvements!
Thank you for your feedback!