Verifying the Onboarded WhatsApp Account
You can verify the onboarding successfully by browsing to Meta Business Account and selecting your Meta account. Once done, the same link will navigate through to the 'WhatsApp Accounts' section. Go the Partners and Setting section of your WhatsApp Business Account.
You can see Plivo mentioned in your Partners list. 
If you click on settings, you can see 'PLIVO INC' under payment method.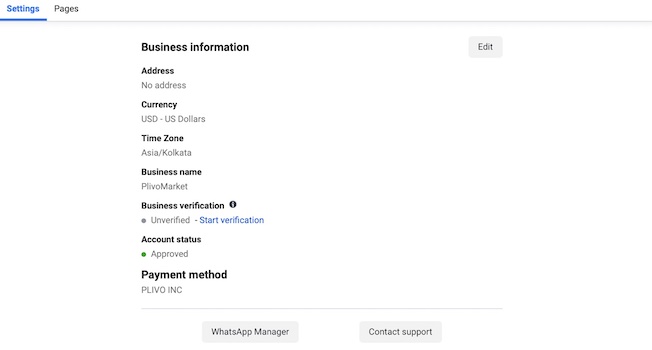 On further clicking 'WhatsApp Manager', the number which was onboarded will appear as 'connected'. More on this in 'Managing Phone Numbers'
You are all set to create templates and start messaging. If you already have approved templates, you can start messaging. 
🥳 Thank you! It means a lot to us!
Thank you so much for rating the page, we would like to get your input for further improvements!
Thank you for your feedback!