Plivo Research Reveals Shopper Communication Preferences for Back to School
With back-to-school season upon us, it's time for a little pop quiz (remember those?). Do you know how back-to-school shoppers prefer to communicate with your brand? 
If you're not sure, you're in the right place.
In early August, Plivo commissioned The Harris Poll to conduct a survey among more than 2,000 US adults aged 18 and older.* We found that nearly 9 in 10 Americans (87%) are open to receiving communications from retailers they shop or want to shop with, and the percentage was even higher — 94% — among US adults who planned to do back-to-school shopping.
Of those adults, 70% preferred email notifications, 53% preferred SMS/text messaging, and 32% preferred direct mail. Only 27% were open to in-app messaging and 26% were open to receiving phone calls.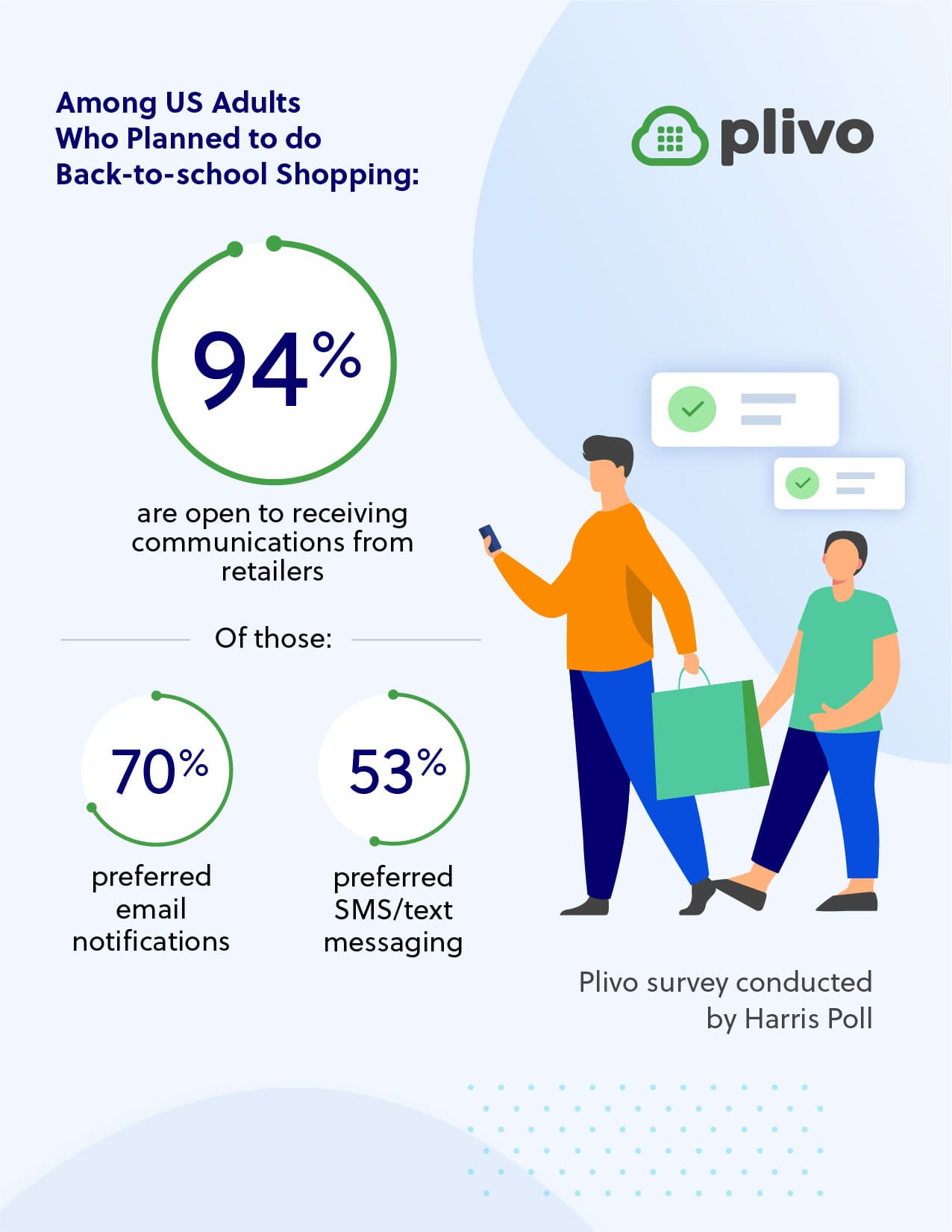 When we looked into those who were specifically shopping for back to school, we discovered four more key insights:
Men and women are both doing back-to-school shopping
While men are less likely than women to do back-to-school shopping, a significant number of them still do. According to our survey, 36% of men and 34% of women are doing back-to-school shopping.
Older shoppers prefer email and direct mail communications
Reaching out to older shoppers? Be sure to reach out via their preferred channels. Back-to-school consumers over the age of 65 noted that their preferred form of communication is email (70%) and direct mail (65%), while SMS (19%) and phone call (7%) were their least preferred. By contrast, younger consumers between the ages of 18 and 34 most prefer email (65%) and SMS (56%), and least prefer direct mail (24%).
91% of back-to-school shoppers would opt in to SMS/text message notifications from retailers
In great news for brands, we found back-to-school consumers are very open to opting in to SMS notifications. They're willing to sign up for:
Shipping/delivery notices and updates (58%)
Coupons (57%)
Sale promotions (51%)
Notification that product is back in stock (42%)
Curbside pickup (37%)
New product notifications (34%)
Clearly these consumers are most interested in deals and updates on existing orders. Back-to-school shoppers likely have specific supply lists or items in mind this time of year, so they're looking for communications that help them find what they need, at a good price, delivered when they want it.
As income and education increases, so does the likelihood of opting in to SMS notifications
For the most part, the likelihood of opting in to retailers' text notifications increases with income and education level. 88% of US adults with an income of under $50,000 said they would opt in, while 95% of those with an income over $100,000 would opt in. Meanwhile, 85% of those with a high school education or less would opt in, while of those with a college degree or more, 94% would opt in.
If you're not already communicating with your back-to-school customers in their preferred channels, go back to school with us! Check out our guide to SMS notification use cases and best practices.
*This survey was conducted online within the United States by The Harris Poll on behalf of Plivo from August 10-12, 2021, among 2,082 U.S. adults ages 18 and older, of whom 688 plan to shop for back to school this year. For complete survey methodology, please contact press@plivo.com.
---
By submitting this form, you agree we may contact you in the manner described in our
Privacy Policy
.