Today, we are happy to announce that we are launching a brand new Plivo Status Page to bring you more information about our network status worldwide and ultimately more transparency. We understand how disruptive incidents can be to your business, so we designed this page with new tools to provide more relevant, timely, and detailed information about each incident, update, and scheduled maintenance.
To ensure that all incidence information reach the right person on your team in a timely manner, we encourage that all relevant engineers on your team visit our new Plivo Status Page and subscribe to email updates right away.
What is it?
We've had a status page since 2013 because it has been the best way for CPaaS (communication platform as a service) companies like Plivo to communicate product statuses and unscheduled downtimes. Status pages have been shown to eliminate unnecessary communication, miscommunication, and enable engineering and support teams to identify and fix issues much more more efficiently.
Even though our original homegrown status page was customized to our needs, it required a lot of time and effort to update and maintain. The good thing is that since then, web-based services have popularized and new tools are now readily available. This is why we've opted to relaunch our status page with more scalable tools and free up time and resources so that we can focus on our core competencies.
This new system provides better visibility in near real-time of the condition of Plivo's global network and will act as the centralized place for all updates related to the Plivo platform including:
System Status: Near real-time details of the availability of all Plivo systems and how it affects each aspect of Plivo's products and services including APIs, XMLs, DIDs, Web SDK, SMS, SIP, recordings, text to speech, etc.
Outages and Incidents: Anytime network events arise, incidence reports will be posted detailing the potential impact on platform services.
Updates and Maintenance: All updates and maintenance scheduled for the Plivo platform with details regarding what's being updated, the date and time, as well as the potential impact on services.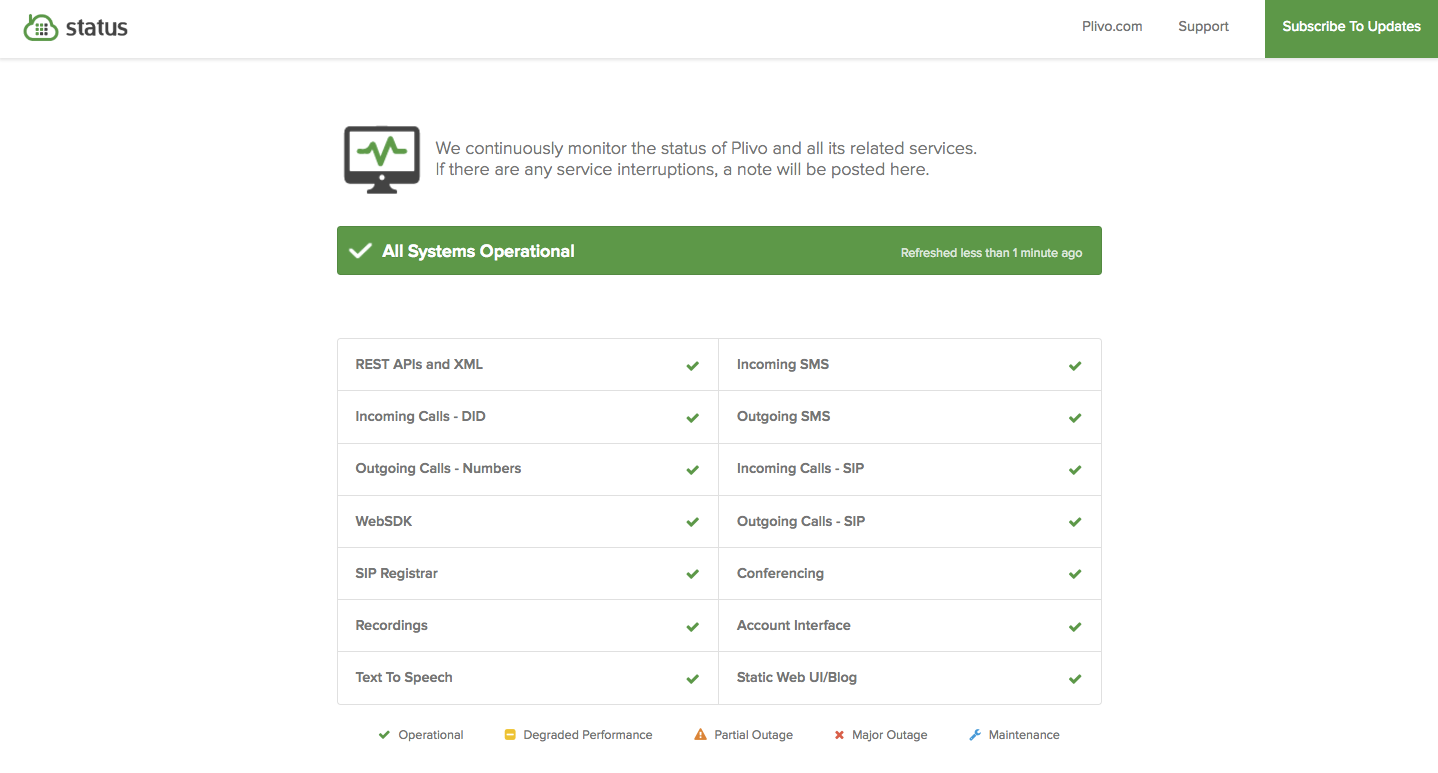 Benefits
Since Plivo's products and services are at the core of many businesses, our support teams often interface with multiple people from the same company. This is why it's important to provide a dedicated place that can provide transparent and timely information of all of our service statuses. Below is a detailed list of what you can expect from our new status page.
Detailed Status for Each Function
Our customers use the Plivo platform for a combination of features and functions specific to their business. That's why we monitor each Plivo product and service separately to ensure that you know exactly what is being affected by a particular incident. Each function is also allocated one of 5 different statuses to help accurately communicate the condition of each service:
Operational: The function is working as expected and in a timely manner.
Degraded Performance: The function is working but is slow or impacted in a minor way. This can include minor increases in latency and degradation of voice quality.
Partial Outage: The function is down for a subset of customers but is working for the rest of the customers.
Major Outage: The function is completely unavailable for all customers.
Maintenance: The function is undergoing a scheduled maintenance and may experience degraded performance.
Better communication during service disruptions
We are constantly monitoring our systems for irregularities in order to proactively notify our users of incidents. In the event of an unscheduled downtime, active incidents will be prominently displayed at the top of our status page. Our team will also provide updates at each step of the evaluation and service restoration process including investigation, identification, monitoring, and resolution. If a specific engineer on your team is monitoring the incidence, then he or she can subscribe and receive these updates via email.
System Performance Metrics
Our team is committed to transparency and reliability. That's why we've added public system metrics to our status page. This gives our customers access to our own system performance data on a daily, weekly, and monthly basis. These metrics include web application response times, latencies, and updates.
Scheduled Maintenance and Upgrades
We are constantly making improvements to our platform and most of the time, it doesn't affect our platform or service. However, for major maintenance and upgrades, we will display notifications with the attached details to the status page. These notifications will appear at the very top of the page with details on the time and potential service interruption duration. For those subscribed to the status page, we will also send out an email reminder 60 minutes before the maintenance start time.
Historical Incident Reports and Post-mortems
Our new status page is a dedicated repository for all incidence and performance information. We have ported all the data from our prior status page, so that our customers have access to the complete outage history from the day we implemented our status page in June of 2013.
How Do I Access the New Status Page?
We want to ensure that all incidence information reach the right person on your team in a timely manner. Therefore, we encourage all Plivo customers and their engineering teams to visit our new Plivo Status Page and subscribe to email updates right away.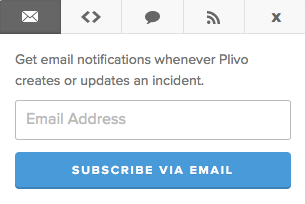 ---