We are excited to announce the release of Geo Permissions for outbound calls on Zentrunk, Plivo's cloud-based SIP Trunking product. Geo Permissions will help users prevent toll fraud attacks.
Toll fraud is a situation where fraudsters take control of a customer's VoIP infrastructure and make many calls to expensive destinations. An affected customer may experience a sudden surge in their call usage and expenses towards uncommon destinations.
With Geo Permissions enabled for your account, you can adopt proactive measures to prevent these occurrences.
Zentrunk Geo Permissions
Zentrunk users can now restrict the countries to which you can place calls globally. You can configure country-specific rules for outbound trunks and set an account level default by going to your Plivo Console. You can additionally enable the blocking of calls to high-risk destinations.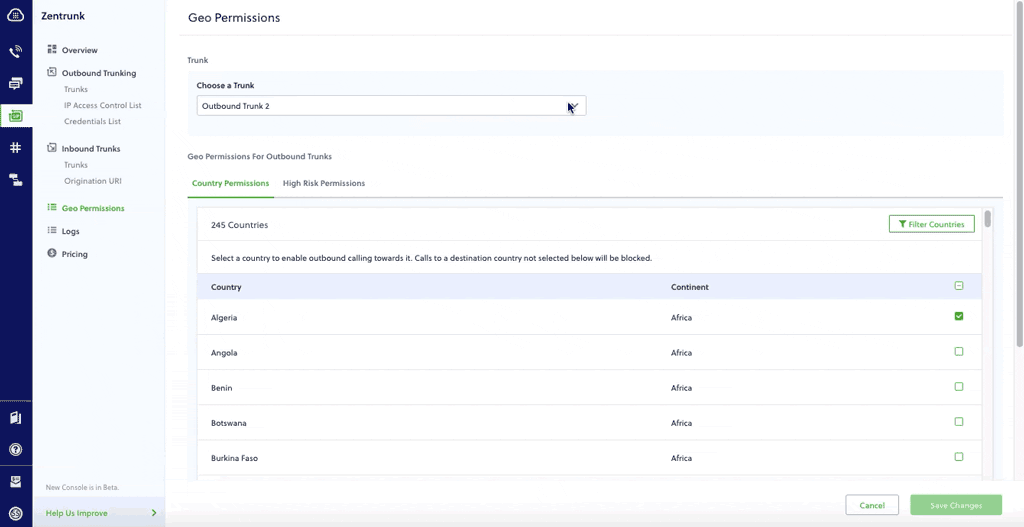 Enable calls to specific countries
You can now enable calling to selected destinations by choosing the specific countries to which you expect to make outbound calls. You can configure these separately for your different trunks.
Zentrunk will allow calls to selected countries and block calls to all other destination countries.
Block calls to high-risk destinations
Plivo periodically analyzes call patterns and rates of networks worldwide and identifies high-risk destinations susceptible to toll fraud. These high-risk phone networks are unlikely to be used by end consumers for regular use cases.
By enabling high-risk destination blocking, you can ensure that calls made to such high-risk destinations are blocked.
Best practices to manage Geo Permissions
To prevent losses from potential toll fraud, we recommend that you configure Geo Permissions for your trunk with the following configuration:
Country Permissions - Enable calls to only those countries that you or your customers expect to make calls.
High-risk Permissions - Enable blocking of the high-risk network groups.
Zentrunk Geo Permissions is available on your console at no additional cost. You can find a detailed description of this feature here.
Not using Plivo yet? Getting started takes just 5 minutes. Sign-up and get started today.
---