10DLC Registration Now Available in the Plivo Console
In February we shared an update on what Plivo was doing with 10DLC, including a link to a 10DLC registration form that customers could use to register their 10DLC numbers and campaigns. We've been excited by the takeup, which exceeded our expectations and shows how desirable this new category of application-to-person (A2P) phone numbers is.
At the time, we said we were working to incorporate mapping phone numbers to campaigns in the Plivo console. We're happy to report that that time has come, and that registration form has been retired in favor of a new console-based 10DLC registration process.
How to register your brand and campaigns
Next time you visit the Messaging page of the Plivo console, you'll see a new 10DLC menu choice near the bottom of the left-hand menu. Click on it and you'll see a new screen that explains what you need to know about 10DLC, along with a big green Register button. Click on that to start the three-step registration process.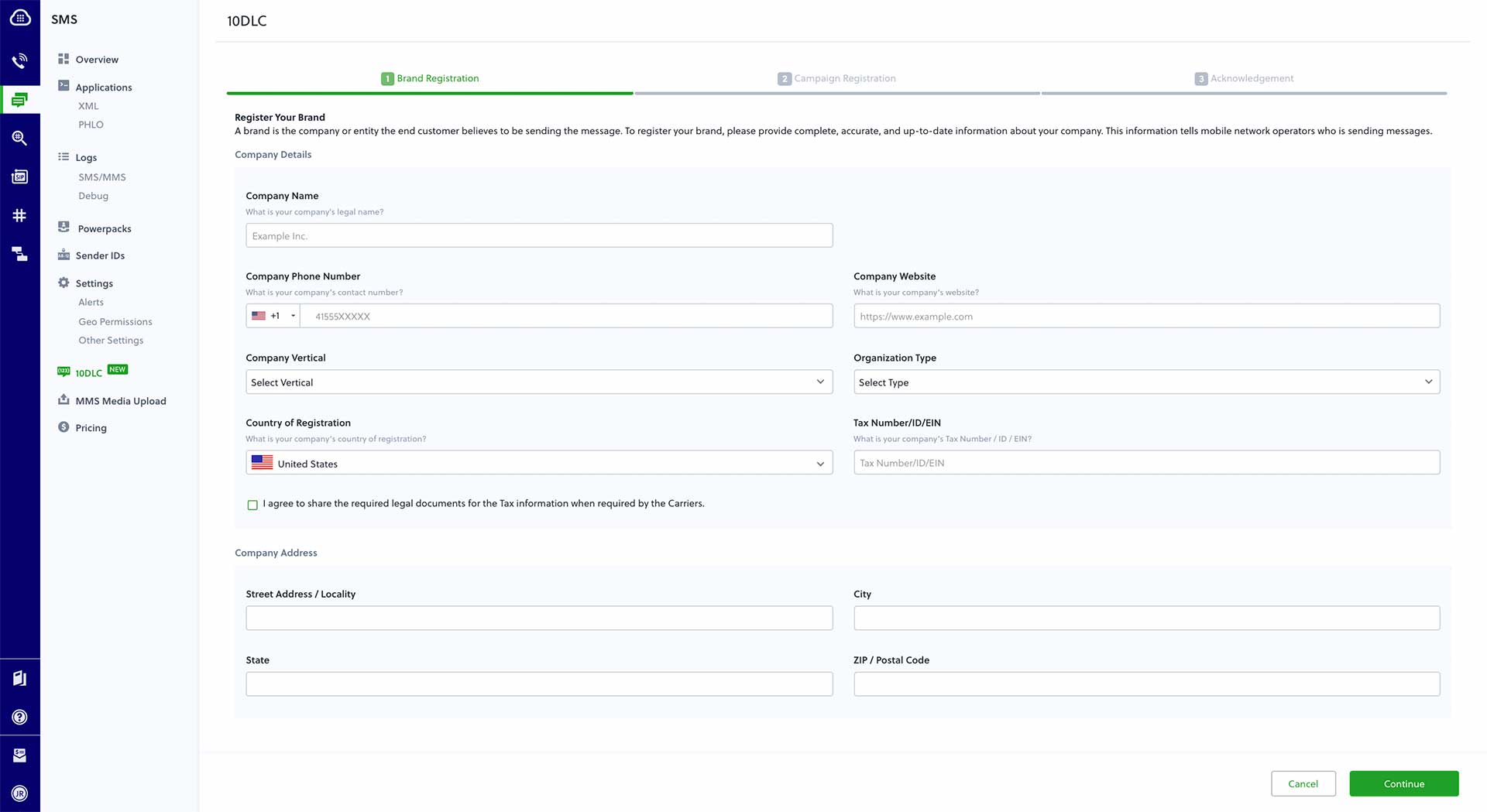 The first step is to register your brand. We ask for a lot of information about your company, which carriers need as part of their 10DLC vetting process.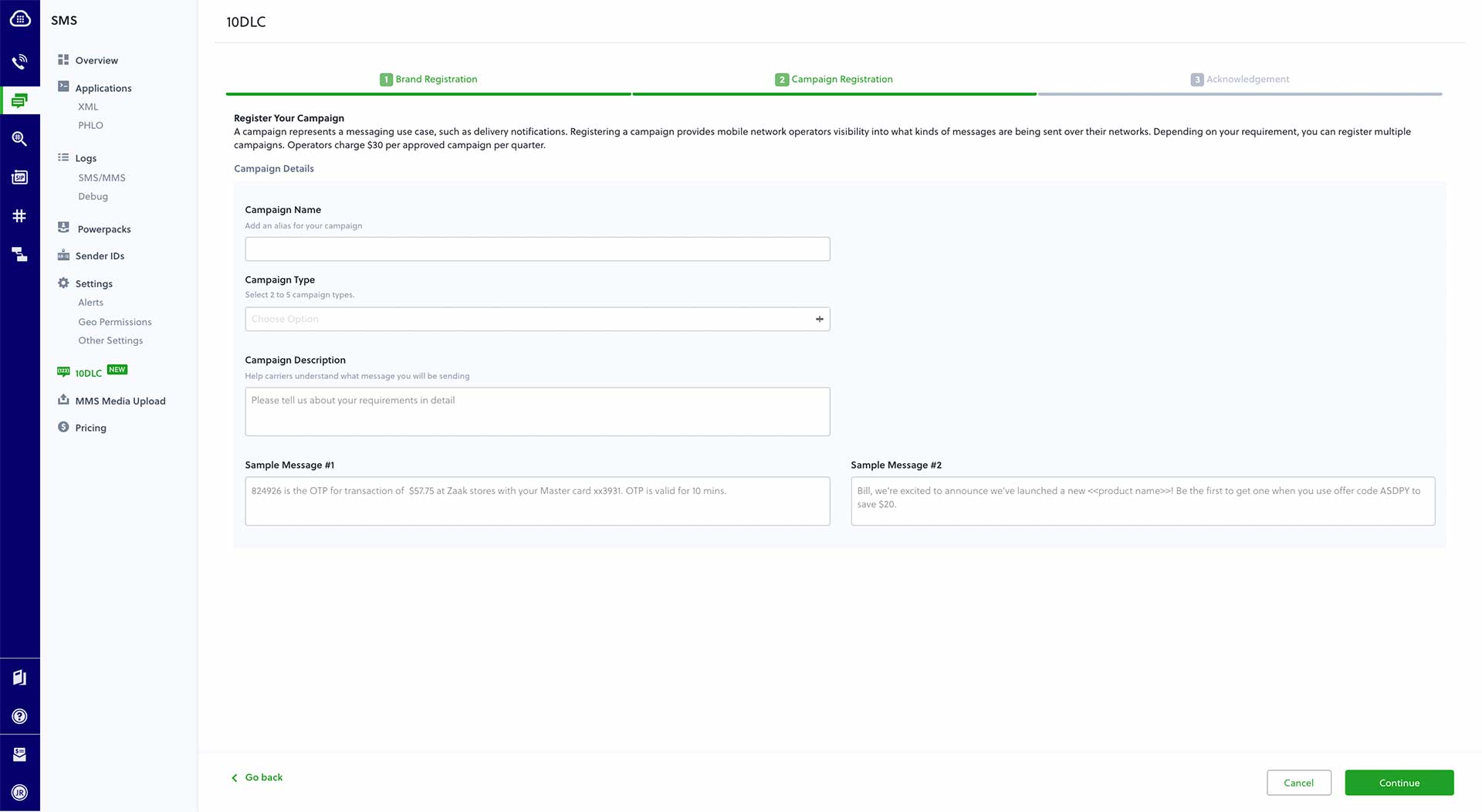 On the next screen, we ask about how you plan to use your 10DLC number — the campaign, in other words. We ask for a campaign name and description. You must also choose two to five campaign types. Businesses use 10DLC for all kinds of uses — marketing messages, two-factor authentication, delivery notifications, and fraud alerts, for instance. To give you the flexibility to use your 10DLC number for multiple campaign types, we suggest you pick several campaign types from the drop-down list. At the bottom of the page, we ask for text for a couple of sample campaign messages, so carriers can see what you intend to send.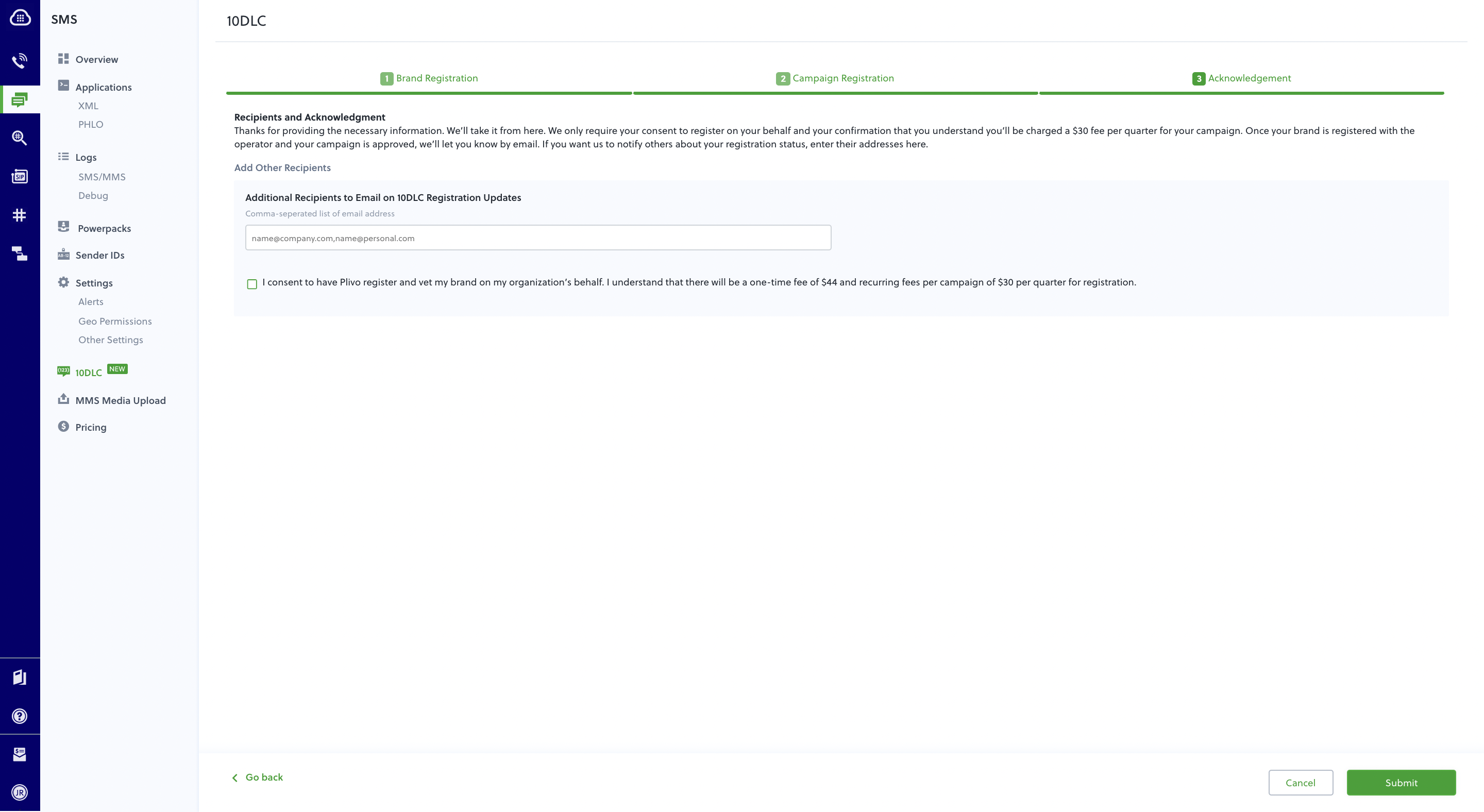 Finally, on the third page of the registration form, you must tick a box that says you give Plivo permission to register your brand and campaign, and a Submit button that sends us the form.
What happens next
Once you submit a registration request, you'll return to the main 10DLC page of the console.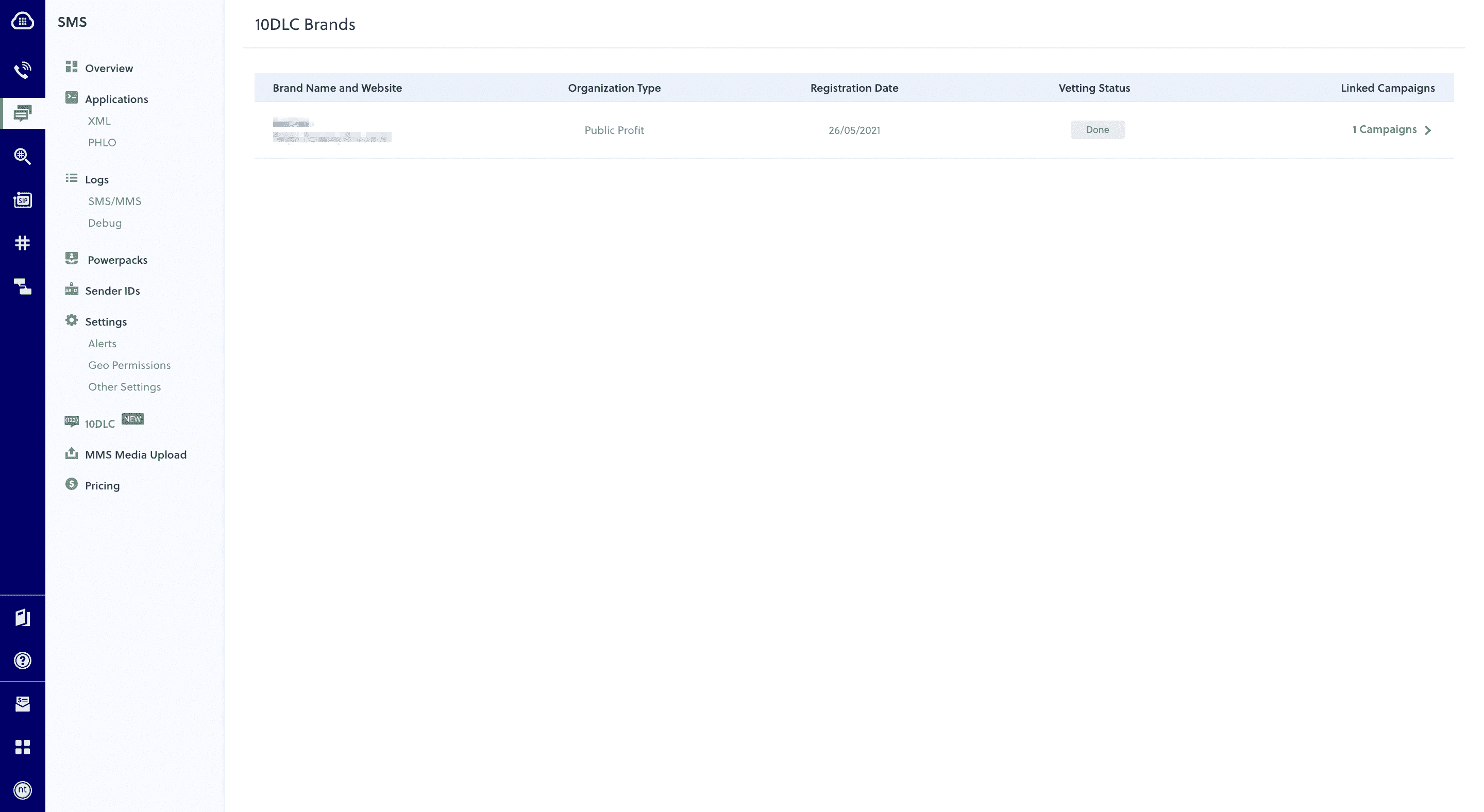 You'll see a list of new and existing brands and campaigns. New brands have a vetting status of Pending. When the carrier completes the vetting process, which can take between a few hours and a couple of days, that status will change to Done, or possibly to Rejected. If your application is rejected, talk to our support team.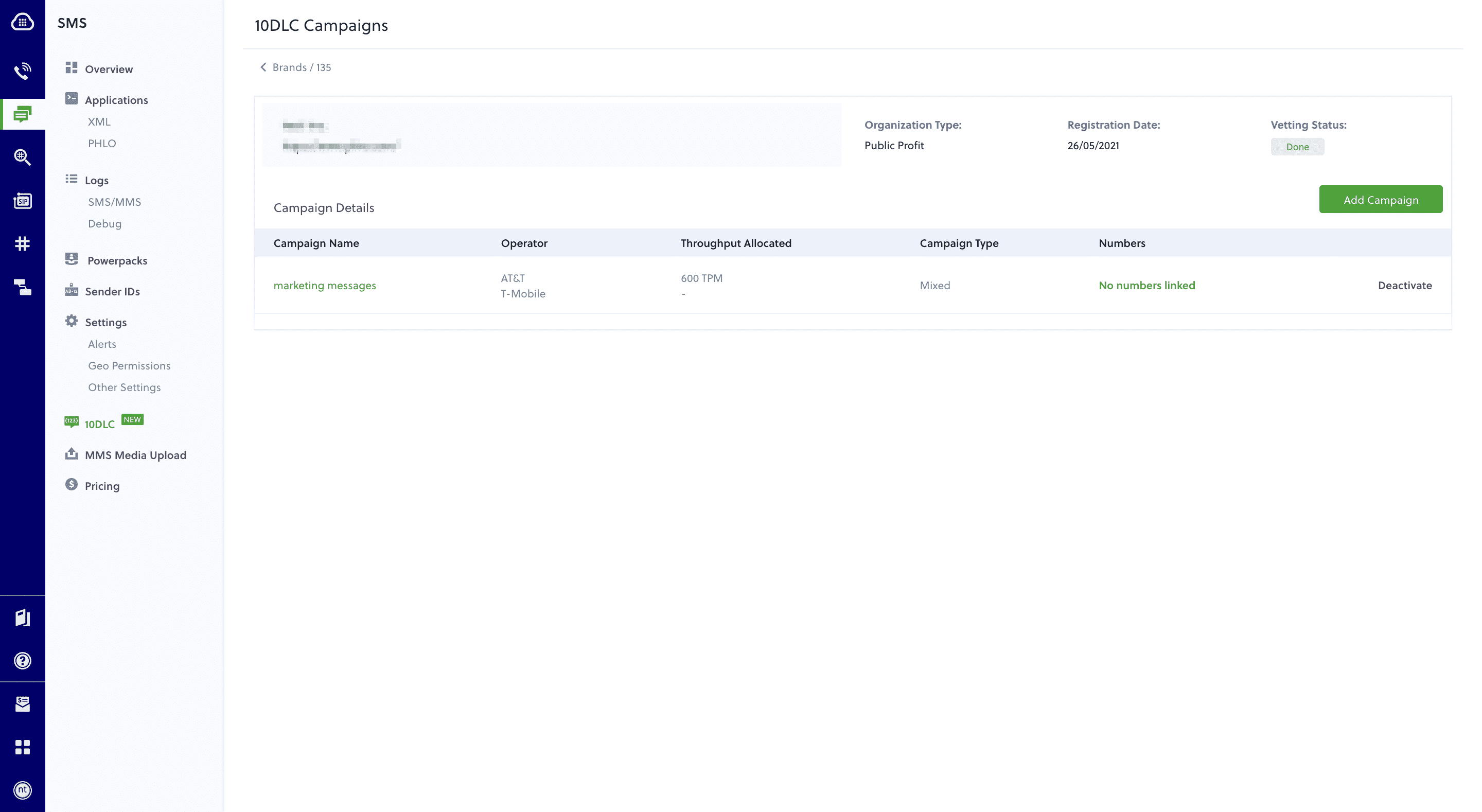 Click on the link in the right-hand column to see details about your campaign. From this 10DLC Campaigns page you can see information about each campaign, including carriers and the throughput allocated by each carrier. You can add additional campaigns and deactivate existing ones. Customers can have a maximum of 10 active and deactivated campaigns.
By clicking on the name of a campaign you can drill down into its details. On this screen you can link and unlink numbers from the campaign.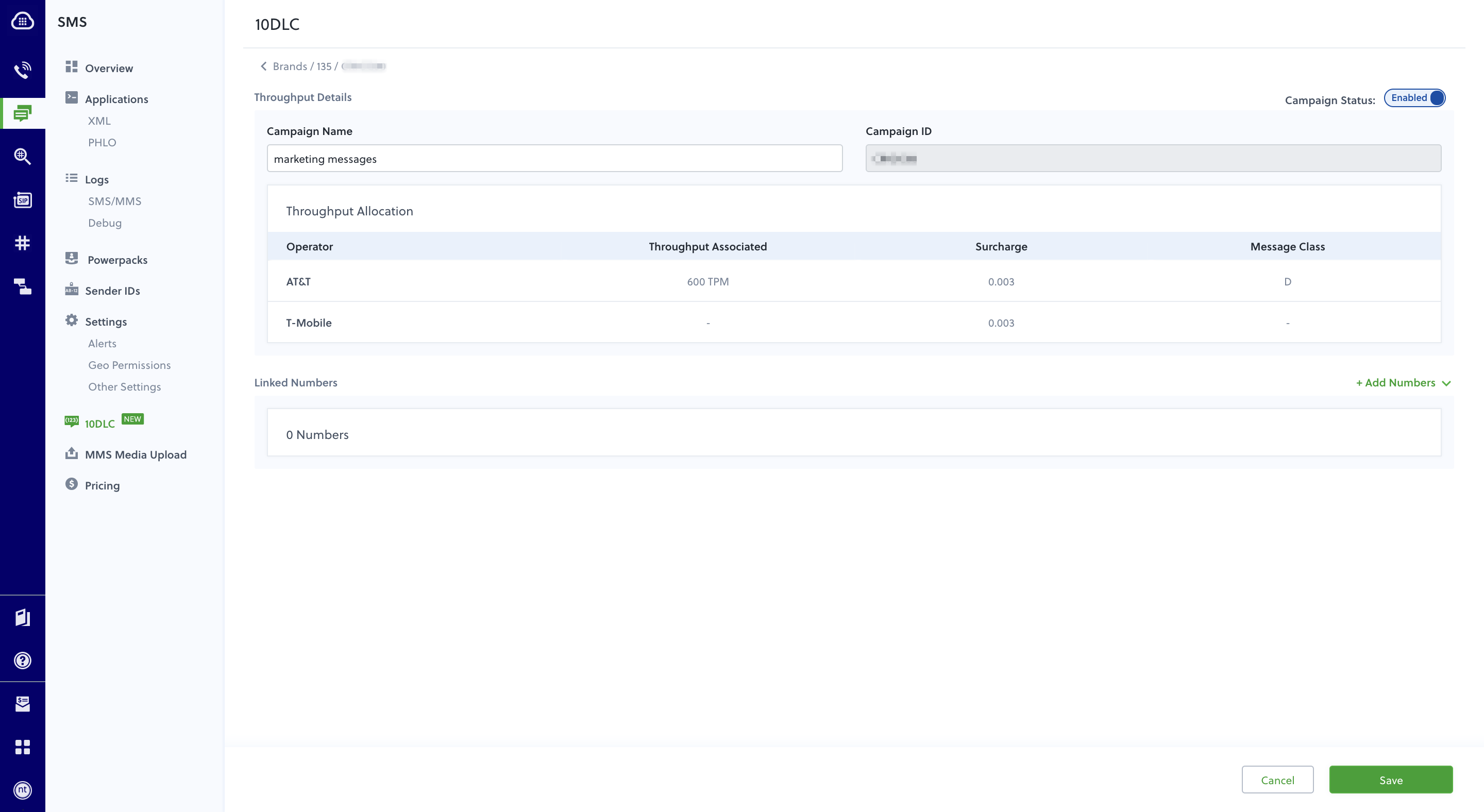 Simple, self-service registration
We've simplified the brand and campaign registration process as much as we can, and we manage the interaction with carriers, because we know you have things you'd rather be doing. 
The pricing for 10DLC brand registration and campaigns hasn't changed since we rolled out the old registration form. There's a one-time $44 fee, and each campaign costs $10 a month, billed quarterly.
We've compiled a list of 10DLC questions and answers for anyone who wants to learn more about this new number type. We look forward to your feedback on the new 10DLC console capabilities.
---
By submitting this form, you agree we may contact you in the manner described in our
Privacy Policy
.