How to Understand G2's Grid Report for Communication Platform as a Service
Plus a link to view the full report courtesy of Plivo
Getting started with the CPaaS Grid Report
G2's Summer 2023 reports are out, and for us the highlight is our 99/100 satisfaction score. The
Grid® Report
provides a lot of information, so we thought we'd walk you through it all. That way, when you see G2 badges on companies' websites, you'll have a better sense of what they all mean.
G2 ranks companies based on market presence (think newsworthiness) and satisfaction (think reviews). Plivo's position on the far right of the satisfaction axis means we have the top score of the 45 platforms in the category.
On the Grid Report web page you can click on the Scores tab to see a full list of scores for all of G2's
CPaaS
platforms.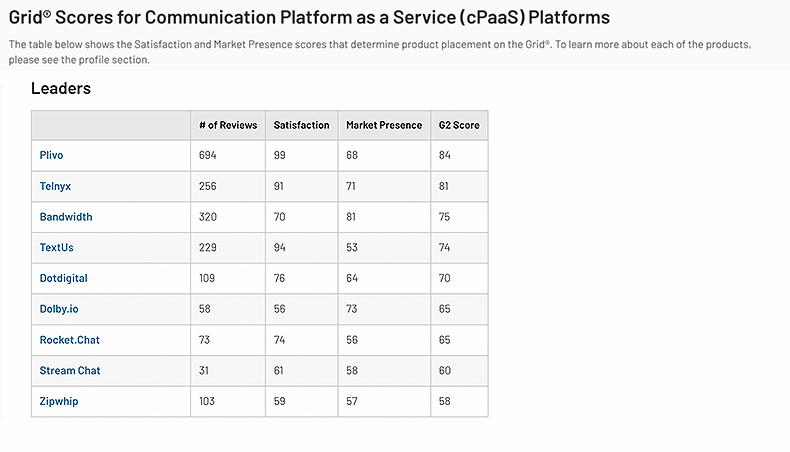 G2 divides the platforms into four categories.
Products in the Leader quadrant are rated highly by G2 users and have substantial market presence scores.
High Performers have high customer satisfaction scores and low market presence compared to the rest of the category.
Contenders have relatively low customer satisfaction scores and high market presence compared to the rest of the category. While they may have positive reviews, they don't have enough reviews to validate those ratings.
Niche platforms have relatively low satisfaction scores and low market presence compared to the rest of the category.
The Grid Report also provides a detailed profile for each provider.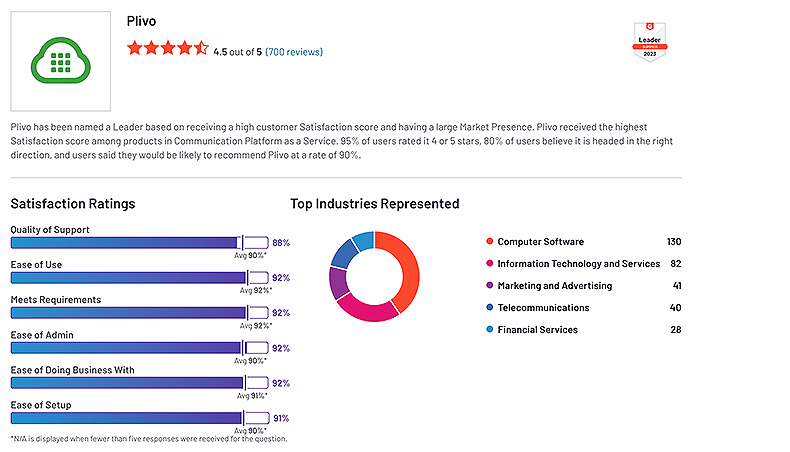 How G2 defines CPaaS
G2's definition of communication platform as a service (sometimes referred to as cloud communication platforms) is a cloud service that provides tools for developers to connect their mobile apps to SMS, voice, and verification features via APIs. Developers use these platforms to add communication capabilities such as text notifications, user-to-user chatting, and voice connectivity to their applications.

CPaaS helps developers implement functionality beyond basic communications, such as multifactor authentication via text message, voice call, or email. These tools are also often associated with VoIP software, which uses an IP network to transmit phone calls without the need to connect to the public switched telephone network.

To qualify for inclusion in G2's Communication Platform as a Service category, a provider must offer APIs that allow developers to integrate communication functionalities into their applications, and provide documentation for those API.
G2's scoring methodology
G2 gathers reviews from G2 community members who use the platforms. According to G2, "the Grid represents the democratic voice of real software users, rather than the subjective opinion of one analyst. G2 rates products from the Communication Platform as a Service category algorithmically based on data sourced from product reviews shared by G2 users and data aggregated from online sources and social networks." The company applies a proprietary algorithm to this data to calculate the satisfaction and market presence scores in real time. The Summer 2023 Grid Report is based on
scores
calculated from reviews collected from March 8 to May 23
How you can use the Grid Report
Technology buyers can use the Grid Report to help them select the best products for their businesses and to find peers with similar experiences.

The report's market presence assessment is an indicator of the company size and newsworthiness, but for a buyer like you, it's not particularly relevant. Focus instead on the customer satisfaction rating, which is based on real users' assessments of the platforms. Use the report to make a short list of platforms to evaluate. You can visit their individual profiles, read real reviews, and compare features and pricing. Once you have that list you can visit the vendors' websites, sign up for a trial, and test them yourself.
Why you should choose Plivo as your CPaaS provider
After assessing the Grid Report we hope you'll put Plivo on your short list. If the G2 ratings and reviews aren't enough to convince you, here's a list of some of the most common reasons we hear why people choose Plivo's
SMS API
and
Voice API
.
Flexibility: Plivo offers APIs and SDKs in seven popular programming languages to make it easy to integrate into any application.
Scalability: Plivo's cloud-based infrastructure allows for easy scalability, ensuring that businesses can handle any level of traffic or usage.
Reliability: Plivo has a 99.99% uptime guarantee, ensuring that businesses can rely on their services for critical communications.
Global Reach: Plivo has a presence in more than 190 countries, so businesses can expand their reach and connect with customers around the world.
Security: Plivo takes security seriously, with features like two-factor authentication and encryption to protect user data.
Cost-Effective: Plivo's pricing is transparent and affordable, with no hidden fees and pay-as-you-go pricing.
Customizability: Plivo offers a range of customization options, allowing businesses to tailor their communications to their specific needs.
Support: Plivo offers 24/7 support to ensure that businesses can get help whenever they need it.
If all of that sounds good and you like what you see in the
G2 Grid Report
, the next step is to
sign up
for a free Plivo trial account or
contact us
for more details about the benefits of an annual agreement.
It's easy to get started. Sign up for free.
Create your account and receive trial credits or get in touch with us