Homebase Keeps Businesses and Employees Connected with SMS
The Homebase app helps businesses manage scheduling and timekeeping for their employees. Plivo helped Homebase streamline its SMS messaging, cut costs, and pave the way for new communication projects.
It's 3 p.m. on a Friday and the happy hour crowd is rolling in earlier than usual. As a restaurant owner, you're starting to sweat. You pull up the app you use to manage and communicate with your employees. You fire off a few texts, calling in reinforcements. Something seems to be wrong with the SMS, though; the messages aren't getting through. No one is coming. You look up. The crowd is closing in, and they look hungry...
This is the nightmare scenario Homebase co-founder and COO Rushi Patel envisioned one night while out walking with one of his engineers. Homebase is a scheduling and timekeeping app for businesses to manage their hourly employees. It relies on SMS messaging to connect employers with staff. Patel realized that if Homebase's sole SMS provider, ever went down, thousands of businesses, large and small, would be cut off from their employees.
After that walk, Patel and his engineer began looking at options for a backup provider. They came across Plivo, set up an account, and got started in a half hour. "We very quickly identified a solution to an outstanding risk to our business."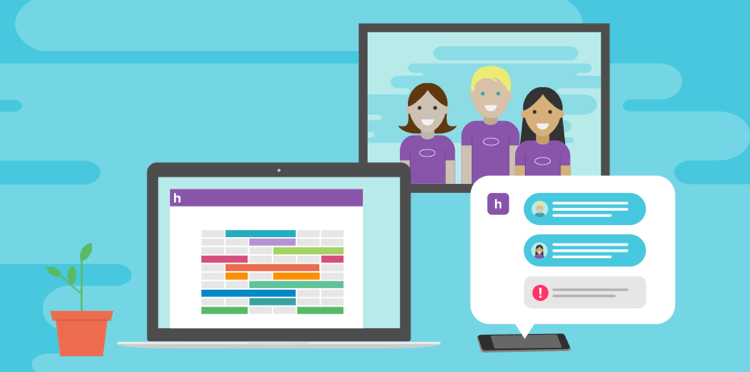 Putting a Face to the Business
When Patel reached out to Plivo, a sales representative suggested they meet in person. This impressed Patel. "I actually have a face to Plivo, which is a pretty important thing when you're building a business," he says.
I want to know the people that I'm counting on to help me build my business. Building a strong infrastructure is a part of growing my business.
With Plivo, what began as a backup solution in time became a backbone of Homebase's business.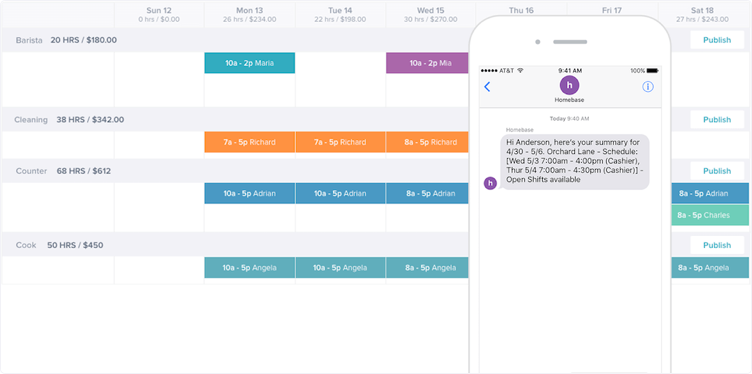 Implementation Before the End of the Day
When Homebase signed on with Plivo, Patel says he found that prices were attractive compared to other SMS providers. When Homebase started testing, it found that delivery rates met or exceeded their expectations. Things were moving in the right direction.
Patel was concerned about how hard it might be to switch.
"One of the things that you're nervous about when you make this kind of change in your infrastructure is whether it's going to be taxing for the engineers to recode to meet the requirements of Plivo's systems," he says.
Once Homebase's engineers dug into Plivo's API documentation, they found the process straightforward. Implementation took half a day.
Patel was impressed at how easy it was. "Adding Plivo to our ecosystem was extremely easy. It only required us to use their Ruby library, and drop in a replacement for the Twilio library we had been using," he says.
When I say a switchover is easy, it means adjusting three lines of code and now you've got yourself a redundant network, a secondary network, or a primary network if you want.
Streamlining the Infrastructure
With their previous architecture, Homebase's end users would receive texts from several phone numbers. Patel had long recognized that this was potentially confusing to users. It was also inefficient. "We were just being subpar by doing it the old way for three years," he says.
Homebase was using an SMS solution whose rules demanded these multiple numbers. Migrating to Plivo meant Homebase could consolidate.
Plivo was able to offer us a solution that let us send out all of our text messages under one phone number for a lower price point.
With a single, reliable phone number, Homebase's cost per text went down. With that move, Plivo enabled Homebase to run more efficiently, both internally and in its dealings with customers. "Now there's just one SMS phone number that they can associate with Homebase."
The consolidation, and the savings that resulted convinced Patel that Plivo was a like-minded business. "Here's a company that's similar to us: growing, with a good product," he says. "I like doing business with people who are focused on continuous improvement and efficiency. So, I made the decision to switch everything to Plivo"
Originally intended as a backup, Plivo became Homebase's primary SMS provider in January 2018.
Confidence in Growing Together, Quickly
Now Patel knew he could rely on Plivo as Homebase grew. "Not only did we move our core volume over to Plivo, but we were confident enough to build a totally new product on the platform," he says.
With a new partner in Plivo, Homebase changed the way it used messaging. It launched a new hiring product with two-way SMS so that business owners can communicate with applicants to set up interviews or have preliminary conversations. Having this capability can be a huge time-saver for business owners.
Saving time is always on Patel's mind as Homebase evolves. Here, too, Plivo has proven to be a perfect partner.
"We're growing and testing new things that we may not know the limits of, but with one email or one phone call to Plivo we get a quick response," he says. "With Plivo, we're not waiting to make progress to build these products or learn new things."
---
Integrate with Plivo's Voice API & SMS API today!
Create an account by signing up for free or get in touch with us