In July, we launched the Plivo Developer Challenge, hoping to inspire the creation of cool new applications using our two-way SMS service. We'd like to thank everyone who applied; your participation was greatly appreciated.
The contest is now closed and the results are in. We are happy to announce that Fizer Khan's application Thikku takes our grand prize - a 16GB iPad Mini Retina. Our judges were impressed by Fizer's innovative and universally beneficial directions app. The code for Thikku is open source and can be found here While judging entries, our team loved the fact that Thikku enables you to find your way from one place to another, even when you are not connected to the Internet, or when you don't have a smartphone. 'Thikku' as you may have guessed, means 'directions' in Fizer's native tongue. Users can just send an SMS to +1 415-851-4154 specifying any two points between which they want to travel. In return, they receive an SMS with step-by-step instructions on how to get from Point A to Point B. This means if anyone in a remote area has trouble accessing an online map or guide, Thikku is the answer. We think that's pretty cool. The application is really easy to use, as shown below. Try it out for yourself here
Here's a visual representation of how Thikku works:

Your directions come to your mobile instantly: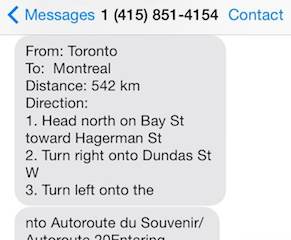 We also spoke to Fizer, to get the lowdown on how he came up with the idea for Thikku and his future plans for the winning application. We discovered that Fizer is an experienced developer who loves to hack and enjoys participating in hackathons. Here's what we also learned.
Necessity is the mother of invention - this was true in Fizer's case. The idea for Thikku was sparked over four years ago, when he wanted to improve his English language skills and didn't own a smartphone. He wished he could simply send an SMS query to Google, asking for the meaning of a particular word and receive a response via SMS. When he learned about the Plivo Developer Challenge through a friend's post on Twitter, he thought it was a good time to explore this idea. He also toyed with the possibility of creating a similar application that would give people directions from one point to another, without using the Internet. The app for directions won out, because as Fizer himself says "Everyone needs directions!"
Fizer was thrilled that Plivo provided him with a free phone number and credits, to play around with, while developing the application. He says, "I'm a developer, if I want to learn about a product, or service, I need to be able to first use it, without having to pay." In our interview with him, he went on to tell us that he found Plivo very easy and straightforward to use and was highly impressed by our level of service and support – his words, not ours!
In fact, Fizer is so happy with Plivo that he's using our two-way SMS service to build an application for his current company NamLabs Technologies. He wants to enable SMS notifications for their clients, who use their exception tracking and monitoring service. Here's Fizer's take on why Plivo proved to be the right fit: "For six months, I'd been trying to find an SMS API to use for developing an application. I tried two other companies, but didn't find them as easy to use as Plivo. I literally used three lines of code to create Thikku"
Fizer's favorite programming language is JavaScript. To develop Thikku, he used Python for the backend and JavaScript and HTML for the frontend. He thinks that he would prefer to use Python to do any further application development when using Plivo.
Fizer insists that he would love to keep Thikku free, forever, for all users. To do so, he might look into monetization through advertising, or as a bare minimum, be able to support all users for free. He has asked some of his friends to further test Thikku and based on their feedback, he may finetune the app.
In conclusion, we asked Fizer to tell us in his own words how he feels about being the chosen as the Plivo Developer Challenge champ, and how his overall experience with Plivo was. Here's what he said: "I feel really happy. I was very excited to see the email announcing my win. Plivo is an awesome service. People must try it."
We congratulate Fizer on his win and hope to see more Plivo-based apps from him. We're also very keen to see what others in the developer community can do with Plivo in our upcoming challenges. Watch this space for more exciting contests, and prizes to be won.
---